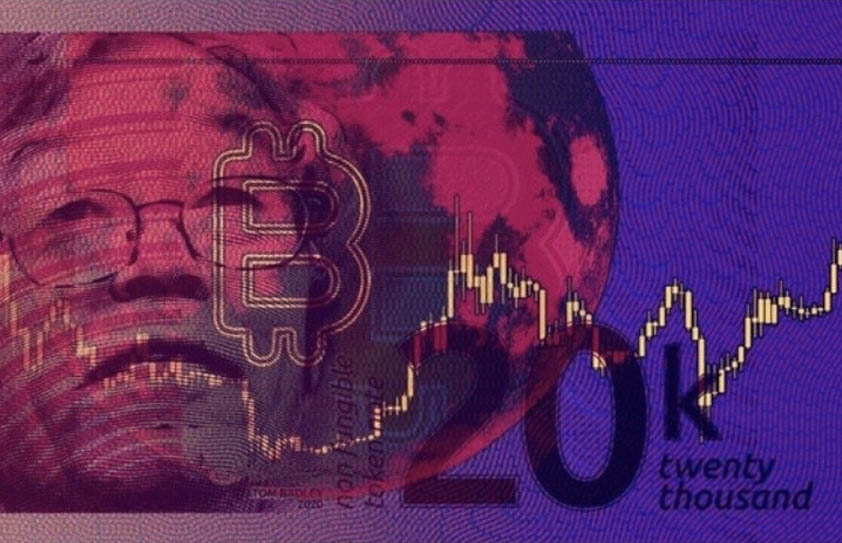 Ticking off the touchpoints of Bitcoin Art, it was inevitable that I would get to Dorian at some point. From my perspective, Dorian Nakamoto is a real life personification of Bitcoin's 'early adopter' phase – the result of a mistaken, frantic search for Bitcoin's true founder during its first run to $1000+.
This innocent period of Bitcoin's lifetime ends at the breach fo 20k – Twenty Thousand US Dollars for one Bitcoin is symbolic of it becoming an investment asset, backed by the faith of big names in tech and payments – the loss of innocence.
The design is quite simple: a large portrait of Dorian, infront of a moon, with straightforward text and B symbols. This NFT artwork animates to reveal an 'ultraviolet' design, of the bitcoin chart, with the first rally to 20k, and its November-December 2020 retest.
This chart also symbolizes my personal journey from crypto trader + artist, to 'cryptoartist' – a convergence of my two favorite passions, art and money.
The 20k Banknote Design is an edition of 12, spread across KnownOrigin, Blockchain Art Exchange, SuperRare, and Rarible.
The first edition sold on KnownOrigin, to @BitBuzz. Thank you! … viewable here: https://knownorigin.io/tom-badley