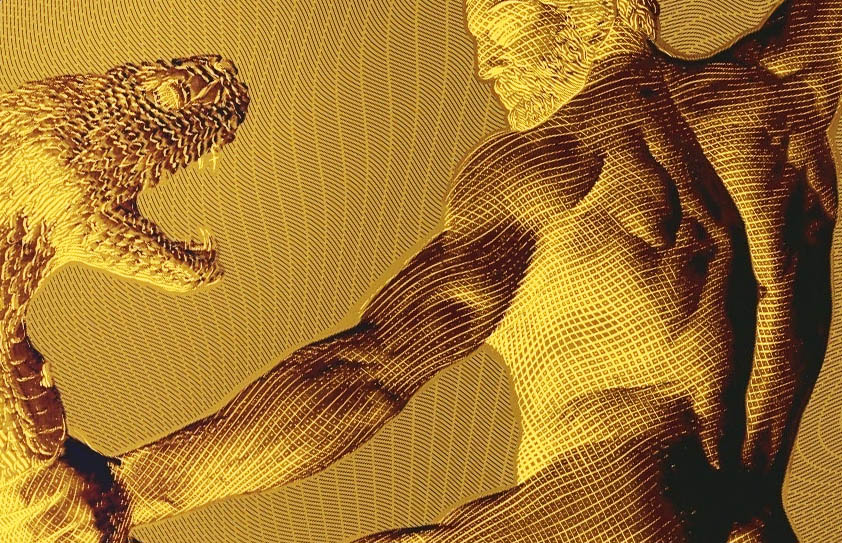 'Hercules' was an artwork consisting of an NFT on the Ethereum blockchain, and a physical print. The collector of the NFT automatically commissions the production of the print: a 38x50cm color giclee, presented in a lightbox.
The artwork is inspired by the work of classical sculptor François Joseph Bosio (19 March 1768 – 29 July 1845), specifically his 1824 sculpture 'Hercules Fighting Achelos'.
This work represented my most ambitious art of 2020, and sees me expand from the usual portrait engraving I've been known for. This highly detailed engraving is made of thousands of lines, each precisely arranged, to create a unique expressive quality.
It also represents the first in a series of works that will focus on 'man versus serpent'. For me, this eternal theme represents the struggle for self determination of Humanity, and the choice between freedom and tyranny. This is particularly poignant in the realm of cryptocurrency, which represents a possible transcendence from the hamster wheel of debt slavery, and a new, more equitable monetary system.
The 3 variations available on SuperRare are three static image NFTs – an orange 'Bitcoin' version, a rainbow 'Ethereum' version, and a golden 'Digix' version. The NFTs are accompanied by a high quality digital print on archival paper.
View the collection here: https://superrare.co/tombadley/creations