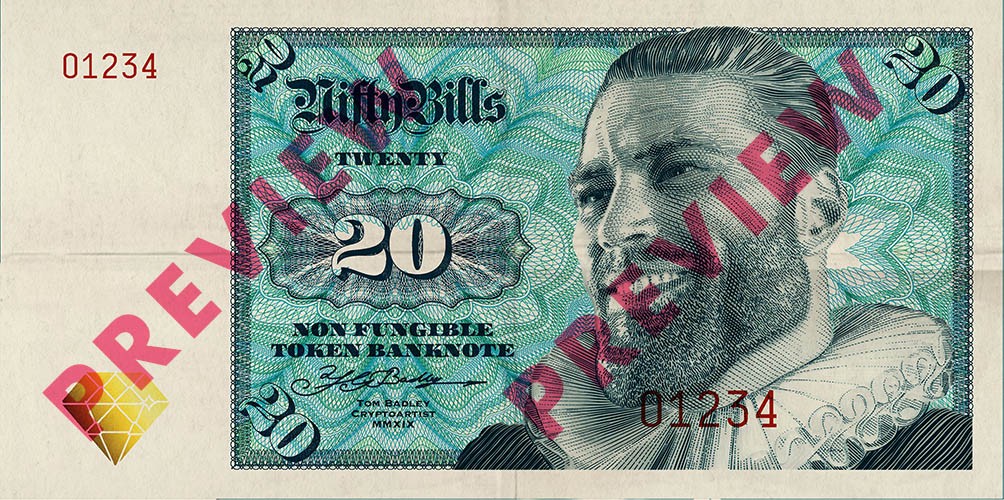 · NiftyBills are created with authentic banknote design protocols, including guilloche patterns, genuine typeface, and banknote industry standards.
· The variable elements of NiftyBills are designed to be both true to genuine currency, and also offer exciting rarity dynamics for collectors.
· NiftyBills will be available for instant purchase exclusively on OpenSea.
· Early adopters have 3 hours to use their whitelist, before all bills are available to the public.
· NiftyBills are randomly allocated to whitelisted members using a provably fair algorythm, based on the serial number.
· 100% of collected royalties are distributed entirely to NiftyBills holders. Royalty distribution commences when the full collection sells out.
10k NFTs Are Dead
The starting point for Niftybills was to set the challenge of creating a generative NFT project with a true point of difference…
During 2021, generative NFTs have fast been embraced by both the NFT hardcore and the legacy art world. The success of large auction house sales of Cryptopunks and Bored Apes have etched the value of generative NFT projects in the public's mind, generating a gold rush of spin-offs. It is now almost expected that every new blockchain requires a dedicated NFT art department, ready to drop their first of many generative success stories.
The generative cryptoart phenomenon is the 'bulk wholesale model' of NFTs — large volumes, low primary sales prices. This is to say, art and quality have been sacrificed for a QUICK BUCK. The low-grade cartoon art of most '10k generative drops' have become an over-familiar aesthetic in itself.
Now the bar is about to be raised on all generative NFT art…
Eventually, the speculative value of art always wanes, and what is left is the true quality — the blue-chip art of old masters and titans of 20th century art history. Niftybills is the first generative NFT drop that doesn't follow the tired cartoon aesthetic, and offers the market something demonstrably unique, different, and difficult to replicate — in other words, the things that define blue chip art…
Truly Unique
Niftybills takes the form of what look like banknote designs of yesteryear, featuring memes, avatars and humans familiar to crypto and digital culture.
The idea is simple enough. The execution of the idea is the magic…
These designs have been created with the proprietary knowledge of a banknote designer — meaning they achieve a feeling of unmistakable authenticity. The pattern generation, the typography, the 'engraving' style portrait, and the anatomy of the design itself — every element has been built from the expertise gained from a niche and secretive part of the printing industry — the part that happens to uphold the trust in our financial system.
Niftybills have been created true to the idea that art should be something that few know how to do, making it impressive, unique and prized. They're also a self-referential artistic statement on NFTs themselves; we are literally printing money, just as NFTs are effectively minting new forms of cash. A banknote is a window into another culture; these generative digital banknotes are a window into an absurd crypto/NFT universe, in which blockchain has and always will exist.
A Physical Edition
True to the promise of being authentic currency designs, the artist will create a physical edition of just 7x different NFTs of the 9,999 run. Those in possession of these 7 selected Niftybills NFTs are eligible to receive an authentic print of their unique NFT, presented in a hand-signed frame. The prints will be created using authentic banknote printing techniques and will have integrated anti-counterfeit security features.
The purpose of the prints is to first offer value to collectors — tangibility is an exciting dimension. However, in this case, a physical print exists to confirm the technical prowess of the artist — designing currency is one thing, printing currency is where the proof lies. The technical knowledge to utilize techniques that are not commercially available will be there, on paper. Finally, a physical print is a commemorative gesture, made to affirm the sell-out of the limited edition run, and open the door to more complex projects in the future…
For more information about the coming drop, the art, and the team, contact info@tombadley.net with NIFTYBILLS in the subject…